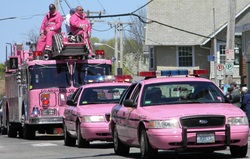 Want to have our vehicles attend your event?
Please fill out the form below and we will make every attempt to be there.
Due to our schedules and and time restraints, please make every attempt to give us as much notice as possible. Any requests made in less than 30 days may result in us not being able to attend your event. Thank you for your cooperation.

IMPORTANT.....please put AS MUCH information as possible into the message section: Are there tickets? Who to contact to purchase them? How much?
Is there a website for the event? What is it?
What will the event include? (games, face painting, bands, etc...)

We will put this on our website. The more information about your event, the more people are likely to come and support.

We try to respond to your request as quickly as possible, but due to the amount of events we attend, please allow up to five (5) business days for us to get back to you. Thank you.


NOTE...There is no guarantee on which trucks will be available for your event. We make every attempt to have the vehicles you request but sometimes last minute changes need to be made due to breakdowns, vehicle drivers available, and other unforeseen circumstances.