Pink Heals Tour


"Cares Enough to Wear Pink": Guardians of the Ribbon"


PINK HEALS is an organization that drives PINK Fire Trucks across the United States to support women in their fight against cancer and inspire men to get involved. The organization was started in Glendale, AZ by a firefighter named Dave Graybill.
The "Guardi
ans of The Ribbon" is a group of firefighters, police officers and public safety officials in the community.
Guardians of The Ribbon will drive pink fire trucks across the country every year to spread awareness and support all women, children, and men in their fight against cancer. The Guardians bring the tour to help raise money and awareness for the non-profit entities that help women, children, and men in their City and State. In addition, this non-profit supports and helps other non-profit programs to raise money by bringing the pink fire trucks to various fundraisers to assist in their efforts at no charge to the organization. As Guardians of The Ribbon, our goal is to spread the "Cares Enough to Wear Pink" campaign until all are in pink shirts. Why? Because Pink Heals! For more information on the national chapter, visit:
http://www.pinkfiretrucks.org/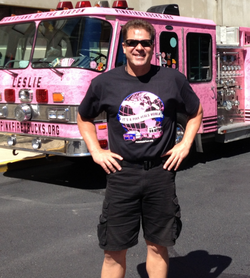 About The Founder of Pink Heals

The Pink Heals Program was conceived and founded by Dave Graybill, a retired firefighter and former professional athlete. A loving father of two healthy children who selflessly spent his inheritance to golf across America to raise money for sick children. A visionary man who has made it his philanthropic mission to change the manner in which our country fund raises from one that focuses on causes and ribbons to one that focuses on the human element again and keeps monies raised in a community within that community to benefit its people.

The Pink Heals Program has evolved from a single fire truck driven by a single fire fighter (Dave Graybill) to which now has over 150 trucks in 4 countries driven by hundreds of volunteers on a mission to keep fund raising local to support the communities themselves. What started out as a mission that focused on a single disease has evolved into a Program that can heal all things.

Dave's visionary leadership has turned the trucks around and Pink Heals is the vehicle that this country is using to drive home much needed support for a wide range of community based initiatives. Thank you for your interest in this program.

---