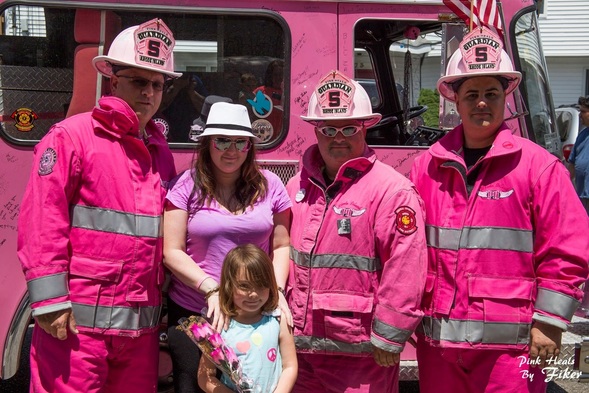 We Care!
We are wearing pink to honor all women and their families, we march on her behalf against the disease cancer. It made sense to align ourselves with our countries first line of defense, the Public Safety!

We are at war against Cancer and we believe that cancer is a terrorist, it had invaded our bodies so we fight against this disease for the most important people in our lives, WOMEN!

The symbol you see above will eventually be the universal sign of Love and Hope for all women.
Where ever you see this symbol, just know that this person or organization puts women first in the battle for life. This is a selfless movement. We are not doing this because it has hit close to home, we are doing this because we are sick of this disease and we are sick of watching our Women suffer!

As firefighters we wear a blue shirt 365 days a year. Our mission is to lose the blue and don the pink in honor of women for 1 week in October. We have designated these days each year as the "Cares Enough to Wear Pink" campaign.

Women represent a large percentage of the population and what an impact it will have for women to see all the support in pink. We hope that our Fire, EMS, Police, and other leaders of this country (local, state, and federal) see the color pink, not just as a benefit for breast cancer, but as a way to support ALL women in their fight against ALL cancers.

Have you had all your post mastectomy work done but still need the areola tattoo work?. Contact Anna Casador at AMC Permanent Cosmetics. Financial assistance available!

http://www.amcpermanentcosmetics.com/