How We Do It.

One focus of the Rhode Island Pink Heals is to help facilitate fund raising efforts in our community. We help raise awareness and funds for organizations such as Hasbro Children's Hospital, the Ronald McDonald House, Woman and Infants Oncology, Hospice of Rhode Island, the RI Firefighters Cancer Network and more.
We also reach out to our communities and provide "Patricia", "Jenna", "Susanne", & "Anna" for person specific fund-raising events. If you are having a fundraiser for a lady in your area, we will bring Team Pink Heals to help you.
We are a 501(c)3, 100% non-profit. Every penny we raise stays right in your community.
When money is raised for Pink Heals, it is done through the
sales of our merchandise
.
The sales of our
merchandise
pays:
The costs of keeping our vehicles on the road
Assists women who are battling cancer and having difficulty with their daily needs
Allows us to deliver
flowers
to women in treatment and finishing treatment
Funds our Woman's Center
And more...
All of our fundraisers are placed on our
events page
.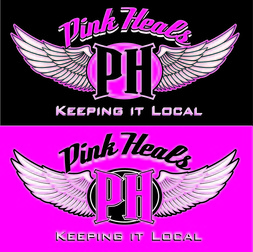 How are we able to operate if none of the donated dollars are kept within our organization?

We have created a brand with our clothing line and merchandise that is sold locally and nationally to help operate our Non-profit. Monies raised operate the trucks and pay for the tour. There are no salaries, no pensions, and no hidden agendas. Your generosity in purchasing our merchandise guarantees that we can continue to reach out to communities across the nation and provide our program to them for free. We guarantee that if your community adopts our program and implements it as intended that 100% of fund raising dollars will be directed right back into your community.

To make a tax deductible donation, please click below: